Almost half of the people who deal with headaches and migraines reported that the weather can play a huge role in their health. Migraine and headaches impacted by weather are commonly triggered by any of these four particular weather patterns: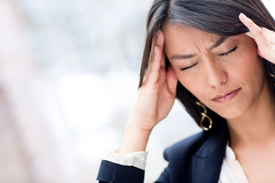 1. Elevated levels of humidity
2. Storm fronts rapidly approaching
3. Dramatic fluctuations in temperature
4. Quick changes in barometric pressure
Natural Headache Relief in Bend
Dr. Sheppard treats patients every month that have been suffering from migraine and headaches impacted by weather changes. He utilizes a unique approach called the Atlas Orthogonal procedure, a specialized form of chiropractic care.
The technology allows for a gentle and precise adjustment of the upper part of the neck, without the use of twisting or popping. Most patients are pleasantly surprised how delicate the procedure is. The specific technology has only been recently made available in central Oregon. Currently the Oregon Head and Neck clinic is the only chiropractic office to offer the treatment in Bend OR.
Take Control of Your Migraines
It is far too common for migraine and headache sufferers to resort to swallowing pills to keep the pain under control, retreating to dark quiet rooms to rest, or canceling plans with friends and family. Dealing with a migraine or headache doesn't always have to be this way. While it is impossible to control the weather, you can make a decision to see if you can control your headaches and migraines.
To see if you are a candidate for the Atlas Orthogonal procedure call (541) 213-2190 to get in touch with Dr. Sheppard at our Bend OR chiropractic office.